AD005 Wireless Vibration&Temperature Sensor
ALPHA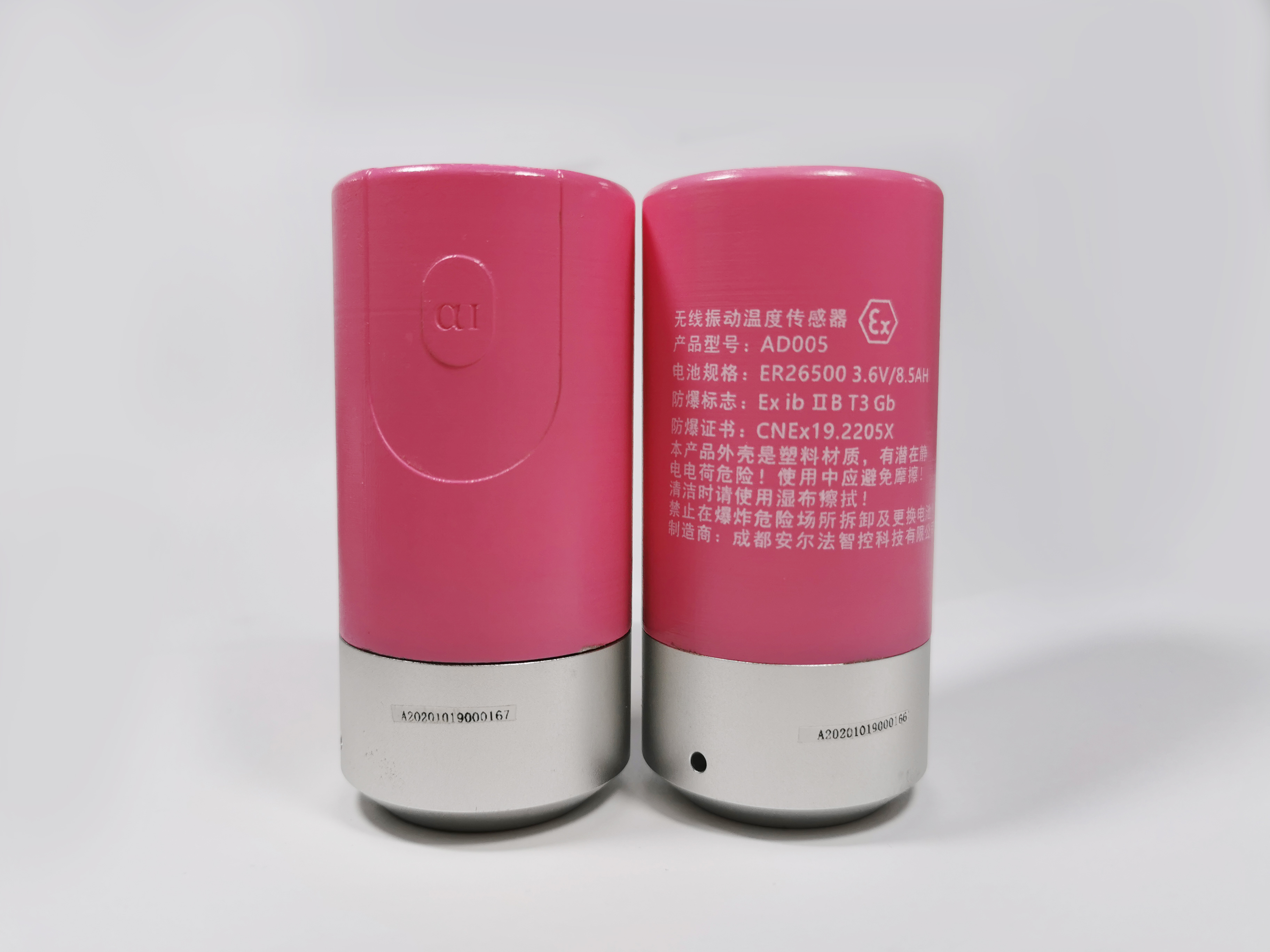 ---
ON SALE! For just $298, you can take home a high-precision vibrating temperature sensor!
With the launch of Alpha's sensor manufacturing plant in Shandong Province, the general-purpose vibration temperature sensor for PHM has been mass-produced, and the scale effect has achieved low-cost manufacturing. Easy installation, quick access to the network, we contribute mining enterprises embrace intelligent equipment operation and maintenance and the first-phase management of assets throughout their life.
Purpose & Application
AD005 wireless vibration temperature sensor (hereinafter referred to as the sensor), suitable for explosive gas environment zone 1, zone 2 and combustible dust environment (zone 21 and 22), class ⅡA, ⅡB, ⅡC and temperature group is T1~T6 explosive Place of gas mixture. Powered by 3.6V lithium battery, used for the acquisition and transmission of vibration signals and temperature signals in the workplace.
Wireless Vibration & Temperature Sensor

Power Rate: 0.1W
Acceleration Range: ±16g
Vibration Type: Tri-axial
Bandwidth: 1000Hz
Data Collecting Frequency: Support Customization
Temperature Measurement Range: -55℃ ~+125℃
Temperature Measurement Accuracy: 0.1℃
Suitable For Relative Humidity: ≤95%(20℃)
Suitable For Pollution Degree: 3
Transmission Protocol: Zigbee, Support Customization
Transmitting Power: 20dBm
Transmitting Frequency: 2.4GHz
Transmission Speed: 1Mbps
Range: 2000M (barrier-free)
Working Voltage: 3.6V
Power Supply: Lithium battery (non-rechargable)
Battery Capacity: 5000mA Battery Life: 3 years based on 10 minutes interval Working Temperature: -40℃ ~ +85℃ Protection Level: IP65
Applicable to dangerous categories of explosive new strange mixtures: ⅡA, ⅡB, ⅡC
Suitable for the environment without destroying the insulation of gas or steam